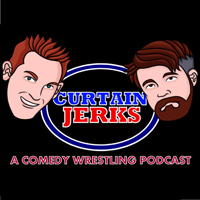 John Morrison returns to the podcast as this week's special guest! John talks about working on a movie with "Tiny" Lister Jr. aka Zeus, prepping for a ladder match, questioning Seth Rollins training, shares an embarrassing wrestling encounter with Brock Lesnar, your #jerktweets for JoMo are answered including "Were there any gimmicks in WWE that you flat out refused to do?", if he would ever be Fandango, and John meets Make-A-Wish Charlie. Also, Scott went to Comic Con, Randy Orton dumps in his own Money In The Bank briefcase, Jesse Sorensen gets released from TNA, Scott is upset that TV ratings aren't measured accurately, Jack Swagger thinks everyone is jumping up his ass after his loss on Raw to Daniel Bryan, and Mark Henry will knock you out with his chocolate cake.


Plug of the Week: Check out the wrestling comic Headlocked at
http://www.headlockedcomic.com
Follow on Twitter @HeadlockedComic Support their Kickstarter here:
http://kck.st/1dADMbT
Writer/creator: Michael Kingston with story/art by: Jerry "The King" Lawler, Rob Van Dam, Christopher Daniels, Beth Phoenix, Ken Anderson and Shane "Hurricane" Helms!